Working with Operations
Various operations can be applied to curves in a graph. By default operations are applied only in the graph, not to the worksheet data. These include:
Translate and scale
Move and delete data points
Derivative, integral
Smooth, denoise
Interpolation/extrapolation
Add, subtract, multiply, etc. with another curve
Other calculations (manual)
Curves that have operations appear blue in the legend:

A list of all the operations applied to the selected curves appears in the properties window of the curve under the Operations tab. Operations can be individually enabled/disabled, moved, removed or edited.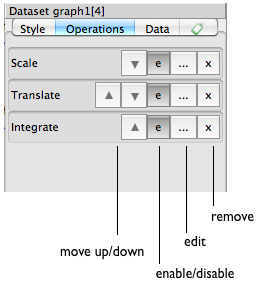 Use to apply the operations to the worksheet data. makes a copy of the curve and applies the operations to it, removing them from the original curve. Operations can also be copied and pasted between curves.